Halle - a town packed with history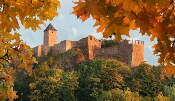 Anyone taking a walk between the Hansering and Moritzburg will find themselves on a historical trail. Halle on the Saale was first mentioned in a chronicle in the year 806. Since then the early medieval salt location has grown over the centuries to become a unique cultural point of interest. Many epochs have left their characteristic imprints. The Neue Residenz (New Residence), the Halle Dome and the Morizburg in the North West of the older part of the town bear witness to the late middle ages and the age of the Reformation. During the early 16th century this was the residence of Cardinal Albrecht, the Archbishop of Mainz and Magdeburg. He was not only one of Martin Luther's most powerful rivals, but also a passionate art lover.
Later on Halle became a "shining star within the heavens of science". In 1694 the university opened its gates and the town's name was immediately connected to the most influential intellectual movements of the age. The philosopher Christian Thomasus taught here, he was one of the most significant minds of early enlightenment. Likewise the theologian August Hermann Francke, founder of the Halle Pietism and builder of the orphanage outside of the city gates of the time. Many great scholars such as Christian Wolff, Friedrich Daniel Schleiermacher and Johann Christian Reil were active in Halle.
Apart from rigorous science, beautiful arts have also always been at home in Halle. Georg Friedrich Händel was born here and it was here that he took up his first post as a church musician. In the 20th century the artist and graphic designer Lyonel Feininger was attracted to the town, he presented the town's structures excellently as paintings on canvas. Since 2003 the sites of his activities have been indicated by a special "Feiniger-Round-Tour". Today the Burg Giebichenstein Art Academy is one of Germany's leading places of education for graphic designers, sculptors and designers.
The history of the old salt town is visible all over. It is possible to discover many interesting things around and within the old houses. For example, there is now a museum in Händel's house of birth, and, in the market-church one is able to gaze in amazement at Martin Luthers death mask. However, the town is able to offer much more.
Further information: